Control the integrity of your sites and web apps
Be alerted whenever unplanned changes occur on your website or web application: a modified, created or deleted object can be a threat to the security of your website. HTTPCS Integrity, the next-generation integrity controller allows you to map your site, to identify 404 errors and 301 & 302 redirects like a web crawler and has been designed to identify any estimated malicious change on your site or on external sources: a hacked partner, a fraudulent advertising agency, etc.With HTTPCS Integrity, keep control over the integrity of your site and be alerted in real time of the slightest change to react as quickly as possible!
Integrity controller analyse and sort every URLs found on a website (or a web application) and theirs links to explore in priority the most relevant pages based on data partition algorithm, links analytics and language processing applied to URLs.
Our technology allows to access 100% of the website perimeter by having an exhaustive indexing of access points and their metadata. And this even when they are requested after user actions, on fully dynamic pages built in Javascript (Angular, React, Vue.Js, etc…) or behind complex forms.
How do I know if I'm being hacked?
Every day, thousands of sites are hacked and it takes an average of 87 days for those involved to realise that they have been the victim of hacking..
Cyber threats are a constant risk but how can you get alerted when a hacker infiltrates your website? How can you make sure your visitors never see the dreaded message "this site may damage your computer"?
HTTPCS Integrity will alert you to any changes on your website or web application that may be dangerous or fraudulent.
Analyze & Master external sources
HTTPCS Integrity not only maps your site and your internal links but it goes further by carrying out a complete analysis of all files' types (internal and external) (media, binaries, documents, archives, javascript, CSS, images,…) .
This analysis will help protect you against malware and viruses that may be found or be integrated into your site.
In this case, our HTTPCS Integrity Integrity Analyzer will alert you immediately!
Using 100% mapping, the tool traces the origin of parent requests from all resources as well as the type of request executed (AJAX, frames, scripts, …)
It thus makes it possible to find the series of hyperlinks leading the robot to these pages from the base of the website.
A modification on your website or web application? Be the first to know about it with HTTPCS Integrity's real-time alert.
Wherever you are, 24 hours a day, 7 days a week, keep control over the integrity of your web content to react quickly and efficiently to any alert.
Fraudulent redirect detection
Regular and daily monitoring of sites to alert redirections due to malicious external scriptions or injections into the site code ("malvertising", click fraud, Scam: "You won an iPhone ..", deface. ..)
When a redirect is detected, the list of addresses through which the browser has been redirected is saved and the final page captured. (screenshot)
Technology detection & SSL / TLS certificate
The robot can detect many technologies, whether front-end (framework css, js, …) or back-end (CMS, WordPress, PHP, MySQL, …)
Integrity controller also checks the validity of your SSL / TLS certificate and alerts you when you approach its expiration date so that your site remains always accessible.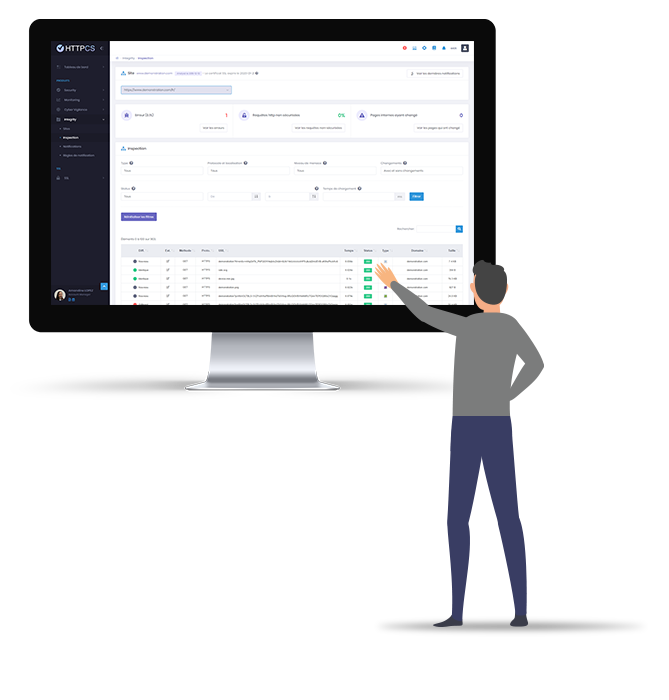 In your User Dashboard, access the HTTPCS Integrity menu and view alerts for all detected changes. By clicking on the detail of the alert you will visualize the change "before / after".
This functionality is ideal for detecting MageCart attacks (Modification of an existing script to integrate malicious code in order to steal sensitive data (bank, personal data, etc.)
This way, you will be able to white list "normal" changes, approved and performed internally, or validate the alert (if the change has not been approved) and share it live to your technical team.
JavaScript error detection
The integrity checker detects JavaScript's errors it encounters when mapping the site.
Then, you obtain a summary list of all JavaScript errors with the location of the error, the number of times it was detected as well as the complete technical detail (stack).
This tool is a real time saver to ensure the proper functioning of your site.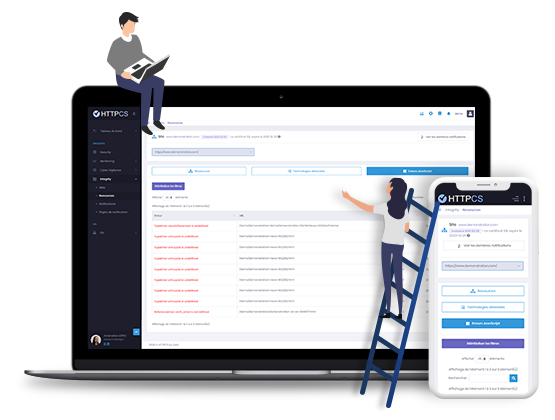 Detection of fraudulent changes
Receiving alerts
Unlimited alerts 24/7 by email or text
Sending alerts to only one recipient
Changes viewing : yes
1 domain name / subscription
No installation fee
Technical support included
No commitment
Detection of fraudulent changes
Receiving alerts
Unlimited alerts 24/7 by email or text
Sending alerts to unlimited recipients
Changes viewing : yes
Detection of malicious files (virus, malware…)
Detection of fraudulent redirections
1 domain name / subscription
No installation fee
Technical support included
No commitment